This feature allows you to enhance your Shopify store by adding related products or product variants to option values in your option set. This enables you to achieve two main objectives:
Flexible Pricing: You can add extra prices to option values based on existing products. If the prices of your main products change in the future, the add-on prices of the option values will automatically update accordingly. Additionally, you can still add price add-ons independently without linking them to specific products if desired.
Efficient Inventory Management: By assigning option values to related products, when an order is placed including those options, the inventory of the associated products will be deducted accordingly, helping you to manage your inventory more effectively.
When to Use Add-on Products? #
Recommended Use Cases #
If your custom option is related to an independent product, and its option values correspond to its variants, then Product Add-ons are ideal.

Example 1: Let's say your store sells Flowers, and customers can choose from 3 types of cards (Anniversary, Birthday, Christmas). You can create an option to buy a card in the flower product page with 3 option values, each representing a different card type. Additionally, you have a separate Card product, with each card type as a variant. You can assign each option value to a specific card variant.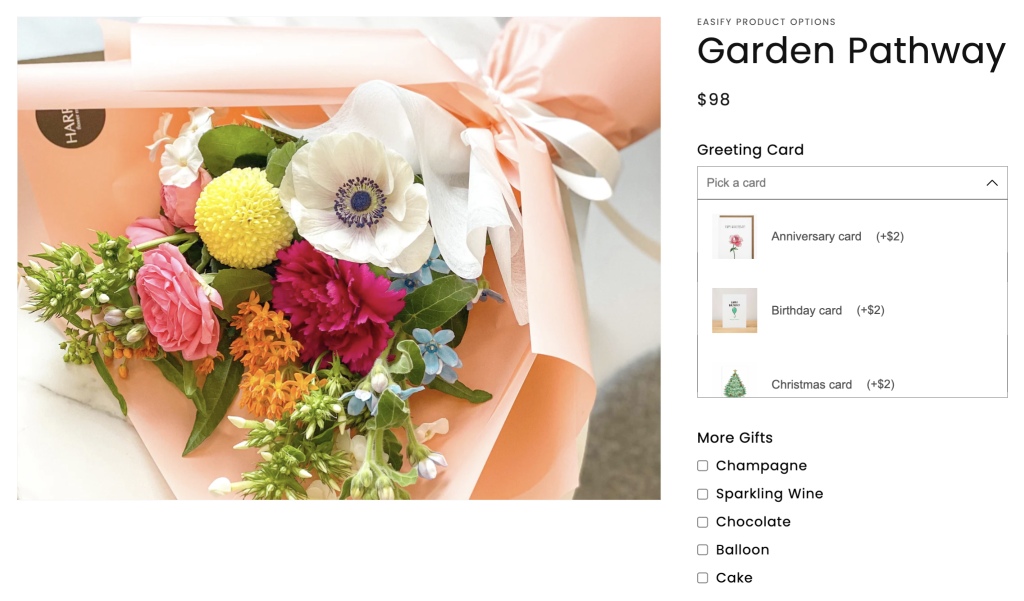 Example 2: Your store sells Birthday cakes that include candles. Customers can choose from 5 types of candles. You can create an option to buy candles in the birthday cake product page, with 5 option values representing each candle type. Meanwhile, you have a Candle product with 5 variants, each corresponding to a candle type. You can assign each option value to a specific candle variant.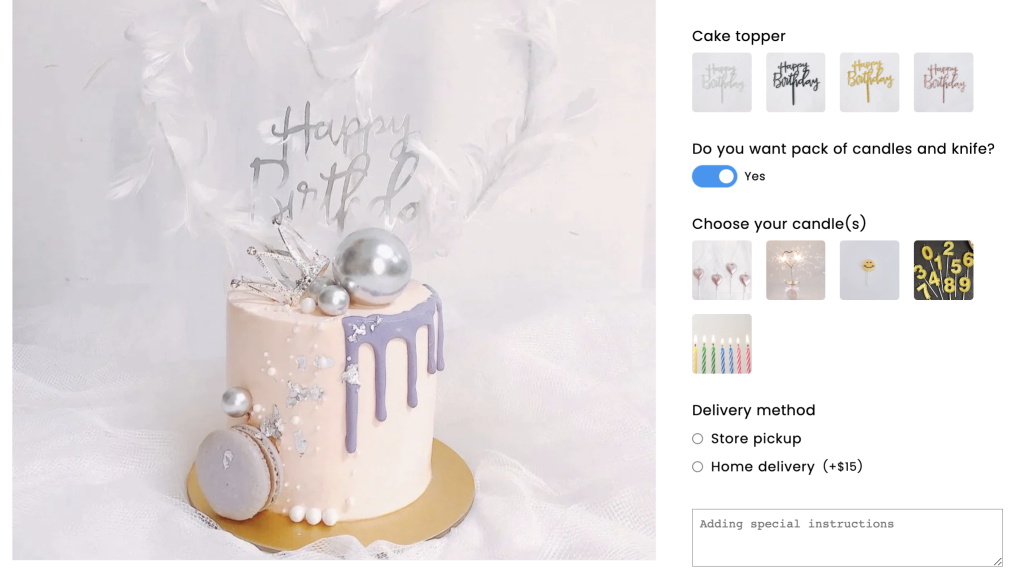 If your option values are related to products that have no more than 1 option, then Product Add-ons are suitable.

Example 1: Your store sells Charm bracelets, and customers can select 5 charms out of 10 options. You can create an option to choose Charms, with 10 option values, and then assign each option value to one of the 10 separate existing charm products.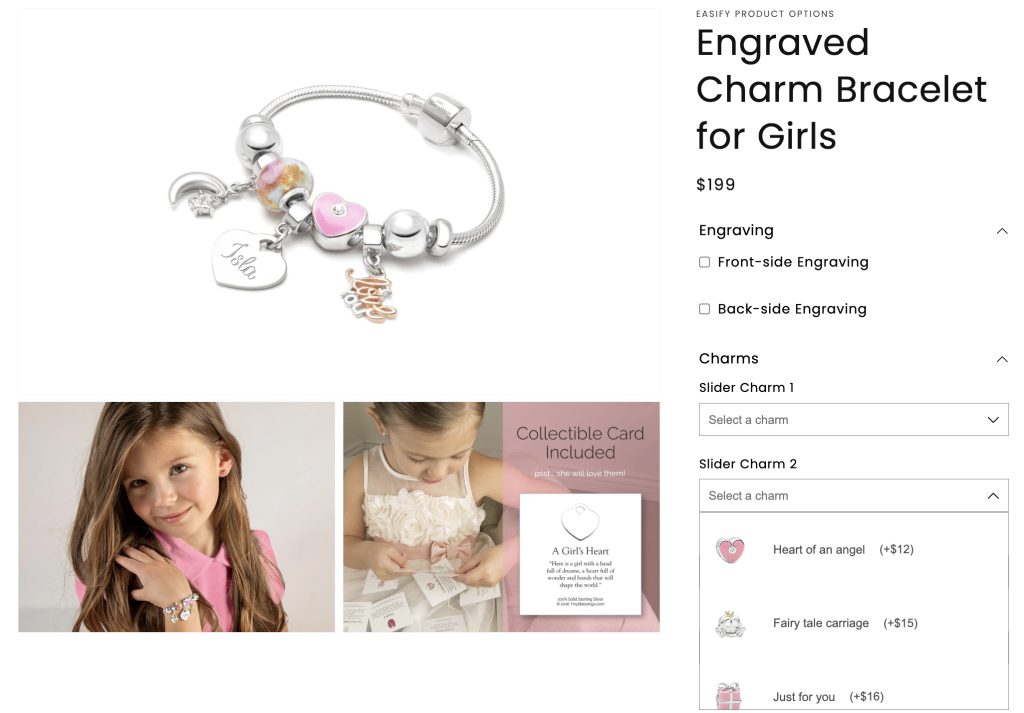 Example 2: Your store sells custom PCs, and customers can select different processors (e.g., Intel® Core™ i3 Quad Core Processor i3-10105F (3.70GHz) 6MB Cache and Intel® Core™ i5 Six Core Processor i5-10500 (3.1GHz) 12MB Cache). You can create a custom option for "Processor," with 2 option values representing each processor, and assign them to the related processor products.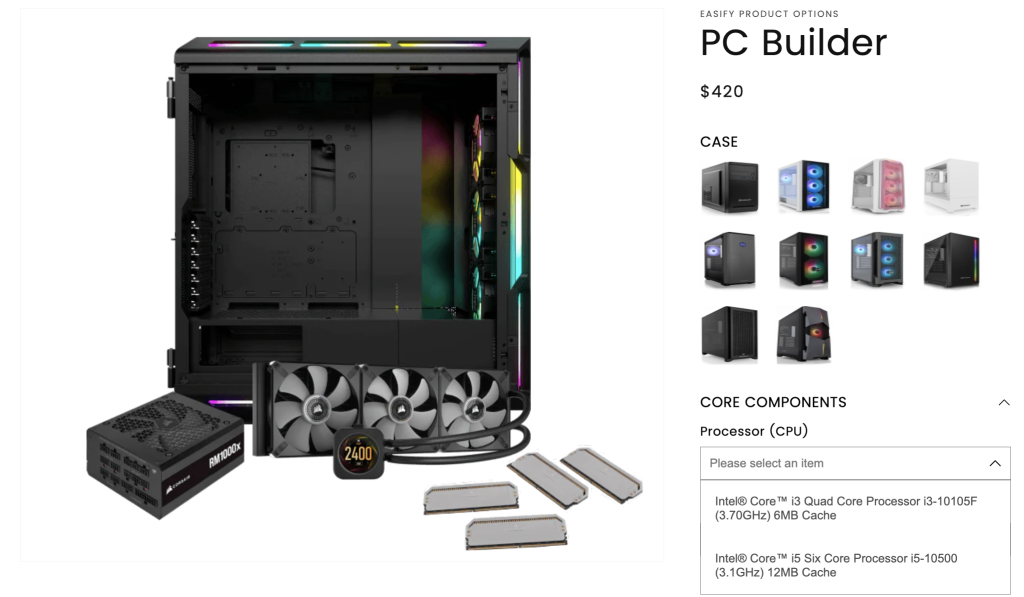 Example 3: Your store sells candles, and you offer a product that includes a pack of 3 optional candles. Customers can select a scent for each candle in the pack. You can create 3 custom dropdown options for customers to choose scents for each candle. Each scent option value can be assigned to a specific candle product. Additionally, if each candle has size options (S, M), the option values will be assigned to candle variants accordingly.
Example 4: Your store sells golf clubs, and each product has a custom option for customers to select a Shaft. You offer various types of Shaft (e.g., Ping Tour 2.0 Black 65, Mitsubishi Kaili White 60, Alta CB 55 Black). The Shaft option will have 3 option values representing these types. Each shaft type is a simple product with no more than 1 option (e.g., color).
Inappropriate Scenarios #
If your option values are related to products with multiple variants, Product Add-ons are not suitable. For example: you create custom options for Size and Color, but these options are already linked to core products with 2 options (Size and Color) and multiple variants (e.g., S-White, S-Black, M-White, M-Black). In such cases, you cannot assign Size's option values to any of the existing variants.
If your option values are not related to products but represent custom services instead, Product Add-ons are unnecessary. For example: You sell engraved bracelets and offer a custom text box for customers to provide their engraved text. The engraved text is not associated with any specific product and does not require inventory tracking. Therefore, there is no need to assign related products to the option values.
Steps To Set Up Product Add-ons #
Navigate to Option Sets: In the app menu, select Your Option Sets. Click the New Option Set button to create a new option set.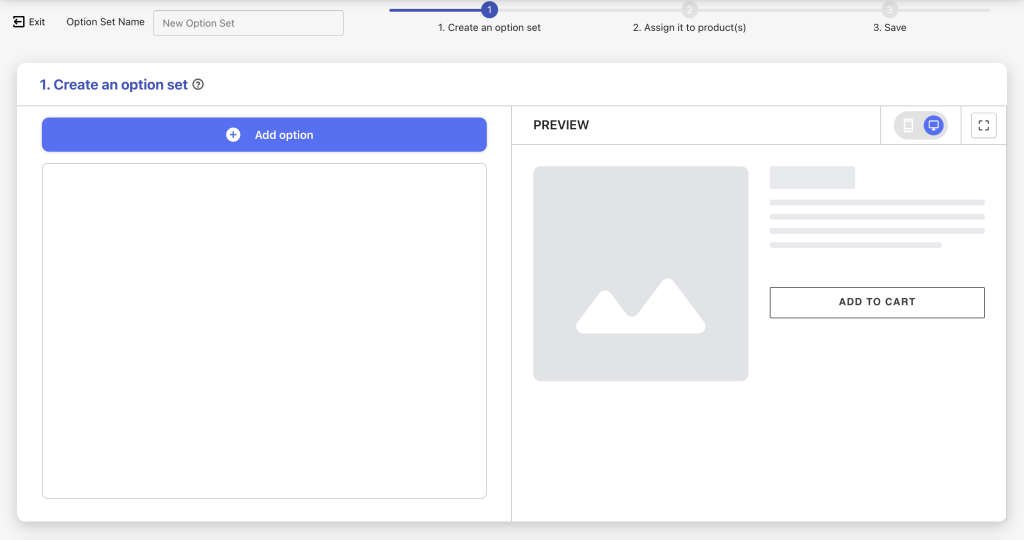 Choose Option Type: Select a suitable option type for your custom option (e.g., Dropdown) from 26 available choices.
Assign Related Products: Click Select Product to choose a product that is associated with the option value you are creating. A pop-up will appear with available product options. Confirm your selected product, and its name will be displayed on the same line as its corresponding option value.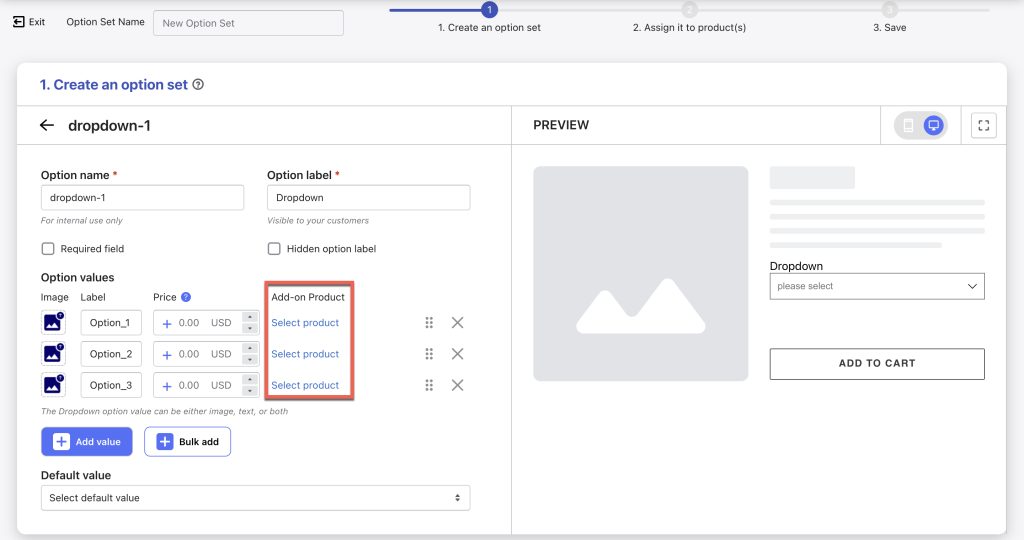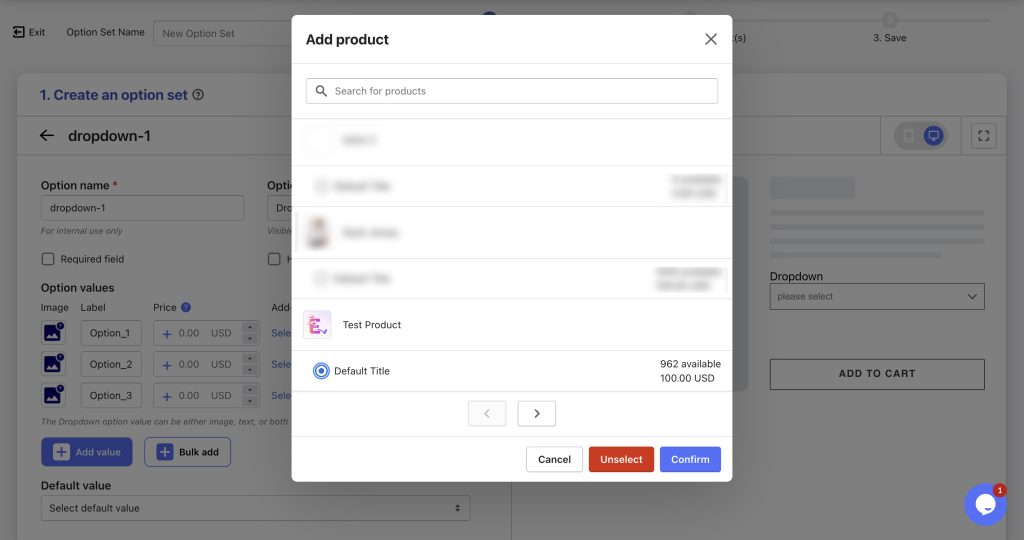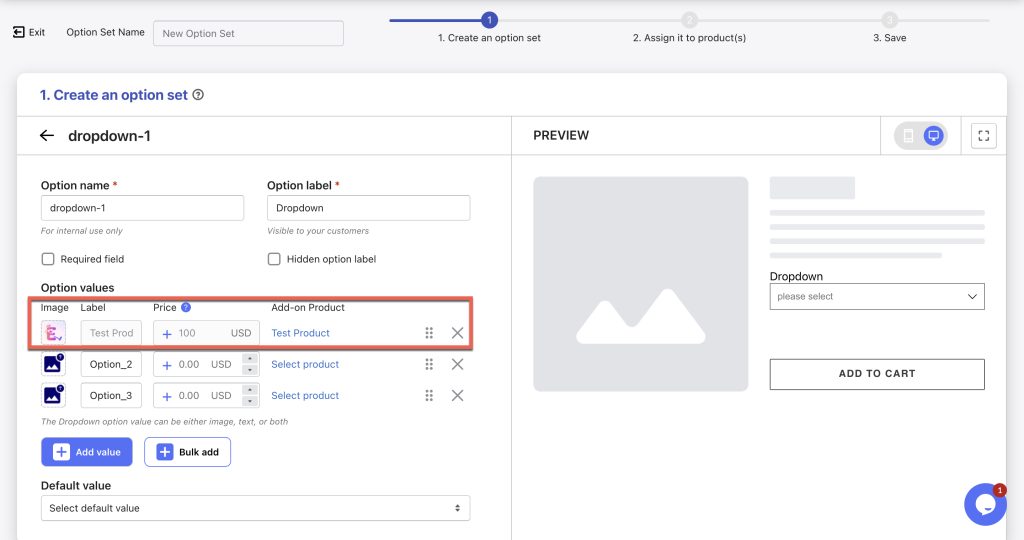 Notes: Once you assign associated products, the images, labels, and price add-ons of option values will be seamlessly synchronized with those of your selected products or product variants. This automatic synchronization ensures consistency and eliminates the need for manual adjustments.
Change Associated Products (Optional): If you need to change the associated product, click on the product name, select another product from the pop-up, and click the Confirm button again.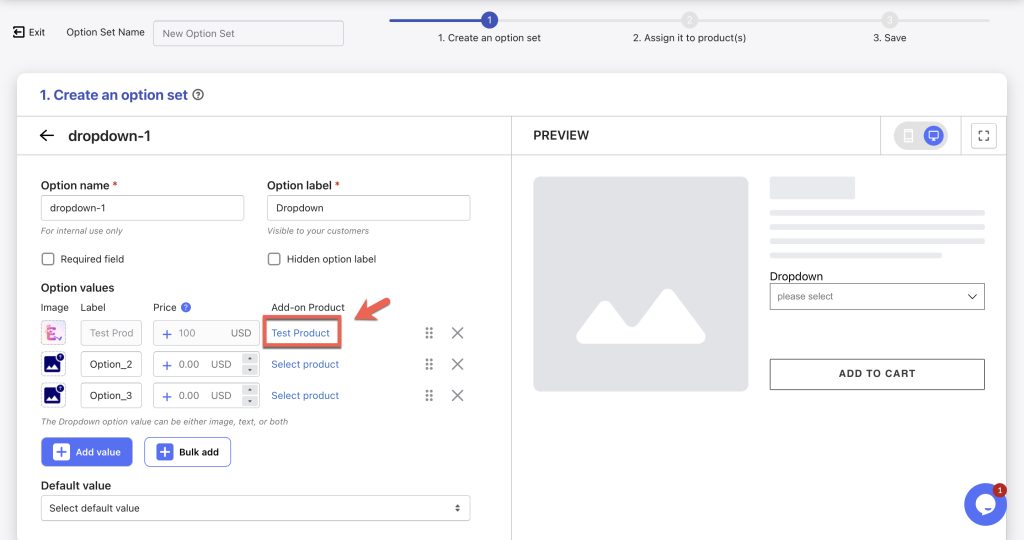 Unassign Products (Optional): If you change your mind and no longer want to assign a related product to an option value, click on the selected product name and then click Unselect button in the pop-up.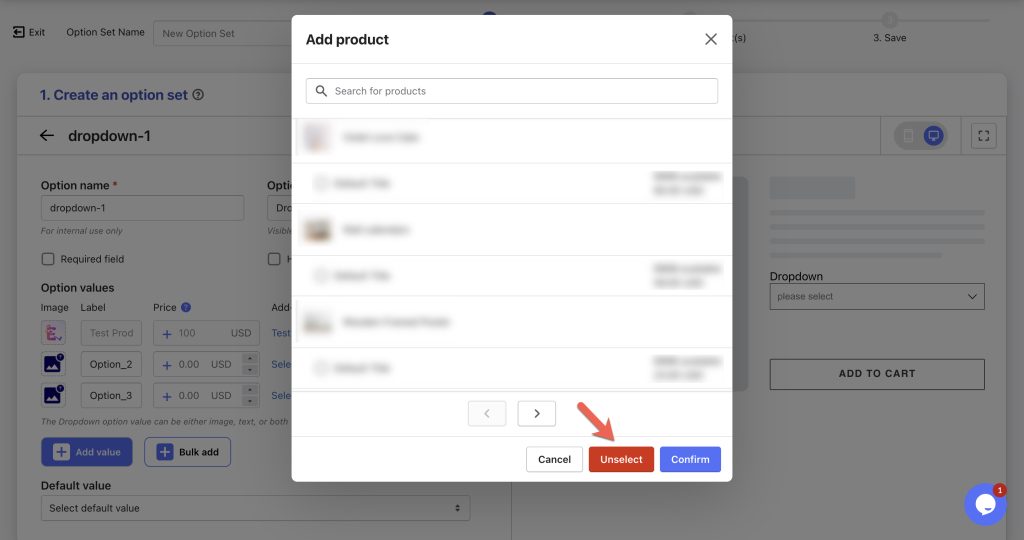 Need Assistance? #
If you run into any challenges while setting up the Add-on Products, feel free to reach out to us for assistance through our convenient in-app live chat, by submitting your request via our contact form, or by sending an email to support@tigren.com. We're here to help!