As an e-commerce entrepreneur, understanding how to add PDF to Shopify page is crucial for enhancing customer experience and providing valuable information. These documents might include product user guides, warranties, menus, policies, promotional materials, lookbooks, and even e-books. Customers often seek quick access to these resources before making a purchase decision.
Unfortunately, Shopify's default features don't allow for direct attachment of such files to your product, collection, or other pages. This is where the Free Easify Product Attachments app comes into play. Thisapp bridges the gap between your desired attachments and your Shopify pages, helping you provide an enhanced shopping experience for your customers.
Feature Highlights of Easify Product Attachments App
For those seeking to discover how to add PDF to Shopify page, the Easify Product Attachments app emerges as an indispensable powerhouse. It offers Shopify store owners the ability to elevate customer experiences by seamlessly integrating diverse file formats, including essential PDFs, into their digital storefronts. Unveil the key attributes that render this app an absolute must-have for your e-commerce store:
1. Versatile File Support
Easify Product Attachments goes beyond just PDFs. It allows you to upload and attach a wide range of file formats, such as PNG, JPEG, DOC, DOCX, PSD, SVG, CSV, and more. This versatility ensures that you can enrich your store with a diverse array of information and resources.
2. Icon Customization
Enhance the visual appeal of your attachments by choosing icons that resonate with your brand. You have the flexibility to use the same icons for files of the same format or select unique icons for each file type. This customization ensures that your attachments seamlessly integrate with your store's design.
3. Targeted Attachment Assignment
Tailor your attachment placement with precision. You can assign attachments to your entire store, specific products, collections, or even set conditions for automatic attachment assignment. This level of control ensures that the right information reaches the right customers at the right time.
4. Flexible Display Options
With Easify Product Attachments, you have full control over how your attachments are displayed. You can place them within dedicated blocks or sections and determine their position on your pages. This flexibility allows you to curate a seamless browsing experience for your customers.
5. Page Selection
While attaching files to Shopify product pages is the most common use case, Easify Product Attachments lets you expand your reach. You can select various pages, such as collection pages, blog posts, or other CMS pages, to display your attachments. This feature opens up new possibilities for sharing information.
6. Descriptive Elements
Each attachment can be accompanied by a description, which is visible to customers on the storefront. Additionally, you can add notes for internal reference. These elements ensure that both your customers and your team have clear insights into the purpose of each attachment.
7. Bulk Management
Managing attachments in bulk is a breeze with Easify Product Attachments. You can import and export multiple attachment files at once, saving you time and streamlining your workflow.
8. Preview Functionality
Preview is a valuable feature that allows you to see how your attachments will appear within your website template in the Shopify admin before publishing them to the storefront. This functionality empowers you to make informed design decisions.
9. Template Customization
Easify Product Attachments seamlessly integrates with your Shopify store's theme customization. You can easily add attachment blocks or sections to selected page templates, giving you the freedom to choose where your attachments appear.
10. Size and Icon Display Control
You have the option to show or hide file sizes and icons, providing a clean and clutter-free display for your customers. This level of customization ensures that your attachments integrate seamlessly with your store's aesthetics.
11. Unlimited Attachments
Easify Product Attachments places no limits on the number of attachment files you can upload. This unlimited capability empowers you to provide extensive information and resources to your customers.
Useful resources:
For those seeking assistance, the Easify Product Attachments App provides a wealth of resources, including:
How To Add PDF To Shopify Page: A Step-by-Step Guide
Step 1: Install and Activate the App
Begin by searching for the Easify Product Attachments App in the Shopify App Store. Once installed, activate the app.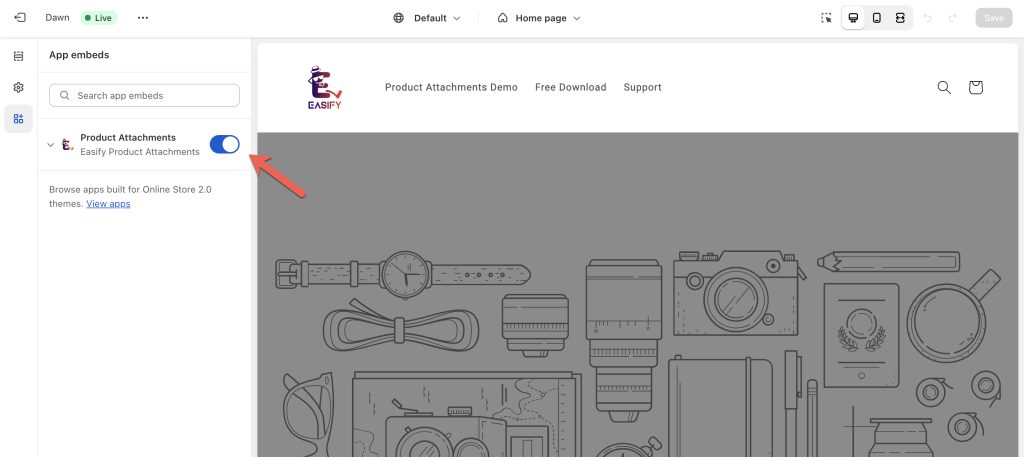 Step 2: Add Attachment Files
Navigate to the Attachments page within the app and click the Add attachment button.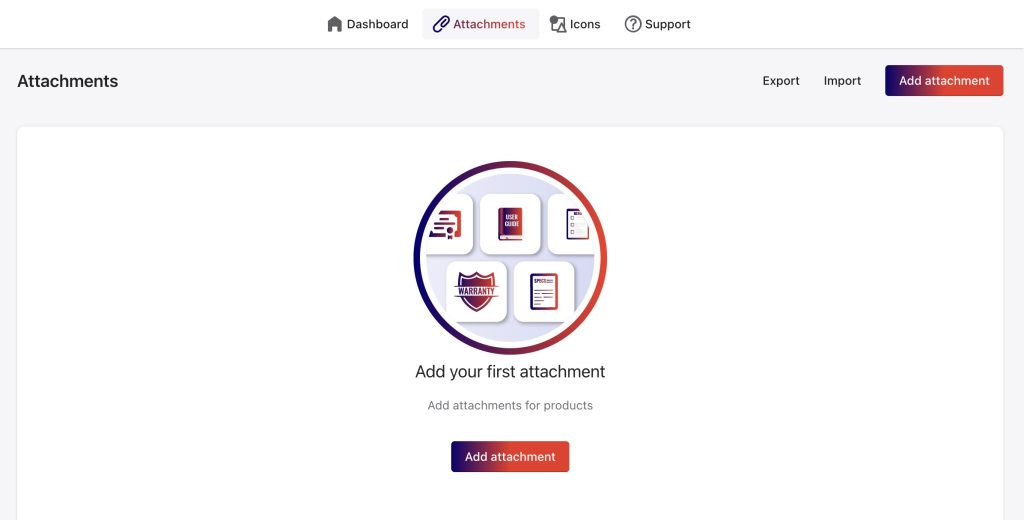 Add attachment details such as title, description, notes, and select the attachment's status (Active or Inactive).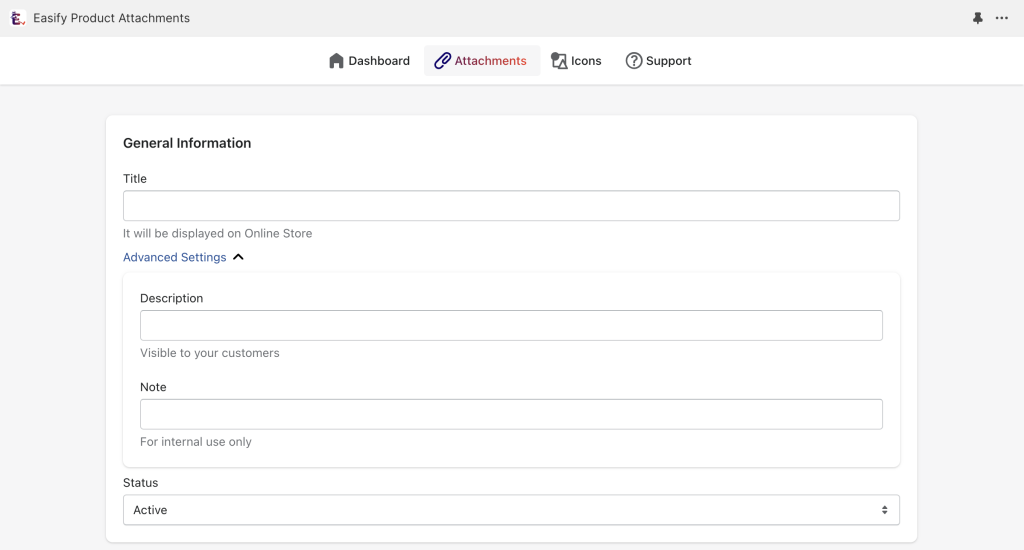 Upload the attachment file from your computer or provide a URL leading to the file.


Choose an appropriate page type for displaying the attachment.
If you want to use a unique icon for this attachment, upload the desired icon file.

Alternatively, you can choose the Assigned by file extension option to use the same icon for attachments with the same file extension. If you select this option, remember to upload the mutual icons in the Icons page after creating attachments.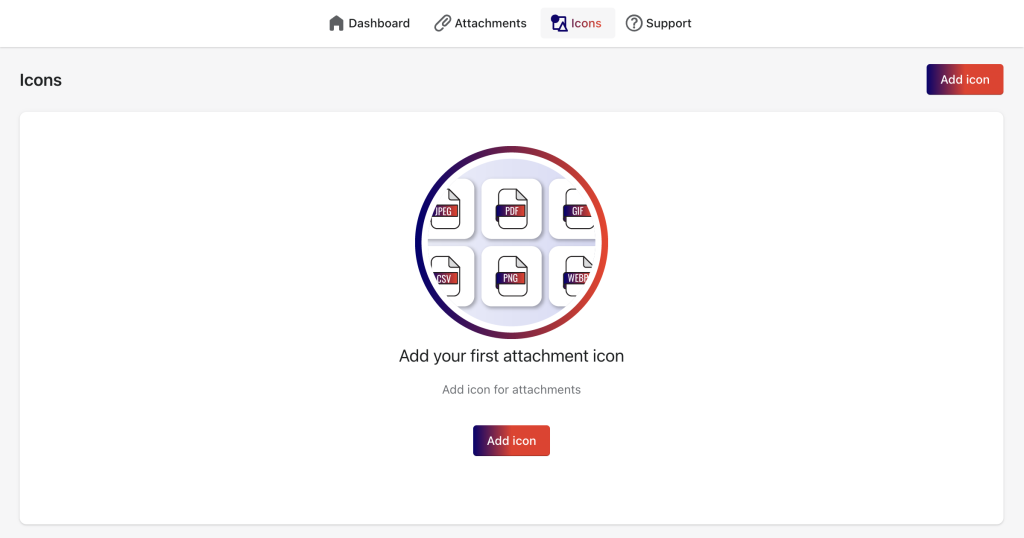 Optionally, assign a sort order to dictate the display sequence of attachments on the same page.
Step 3: Add Attachments to the Shopify Page Template
Access the Shopify admin and navigate to Sales channels > Online Store > Themes. Click the Customize button to edit your current store theme.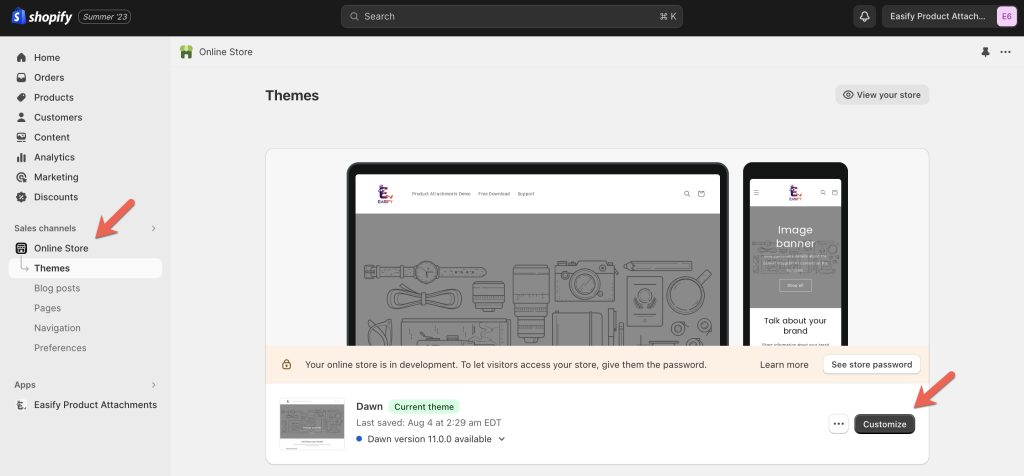 Select the desired page template (e.g., product page) where you want to add attachments.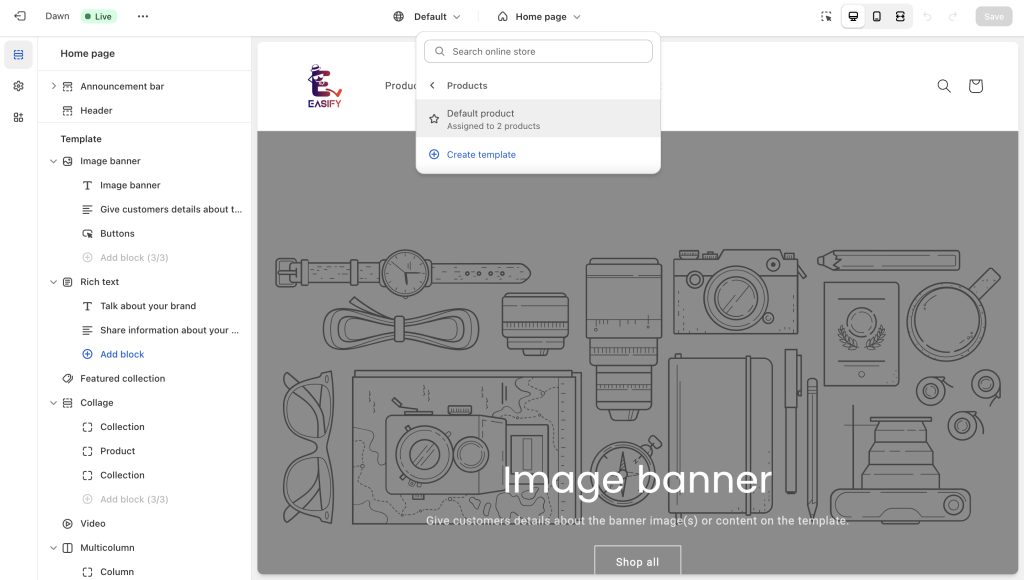 Within the selected page template, click Add block or Add section. Choose Product Attachments to incorporate the attachment block/section onto the page.

Add a block within a section: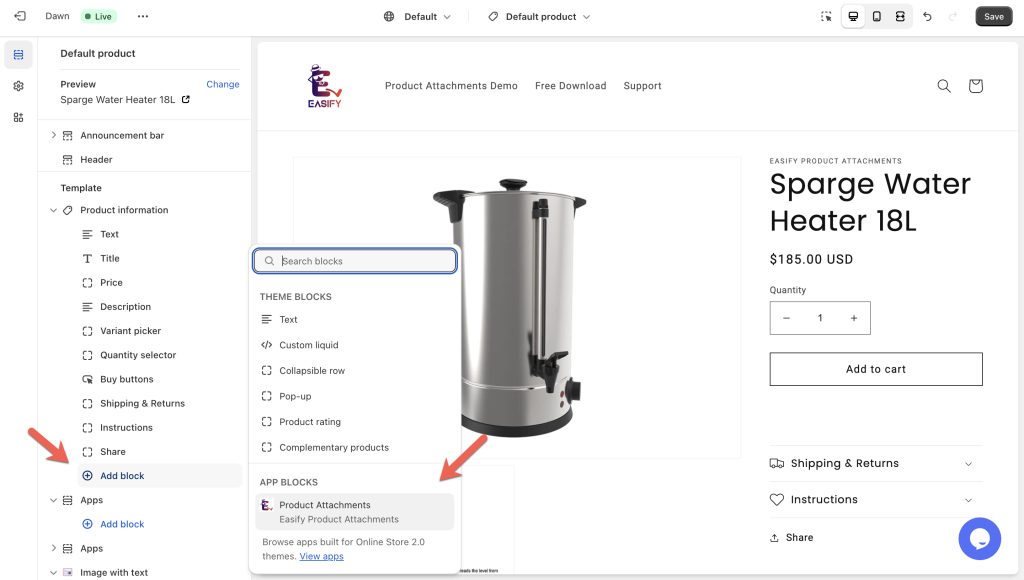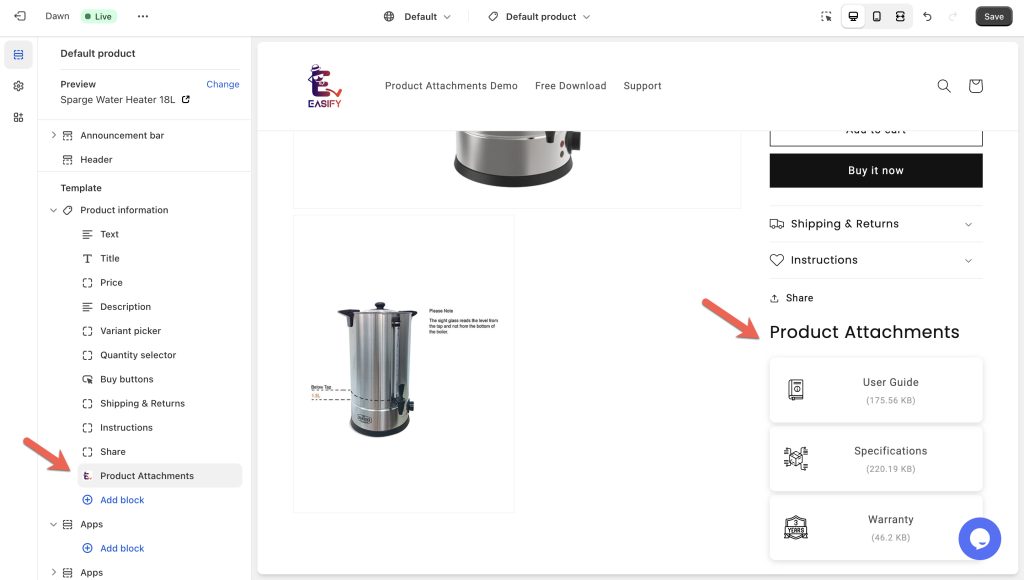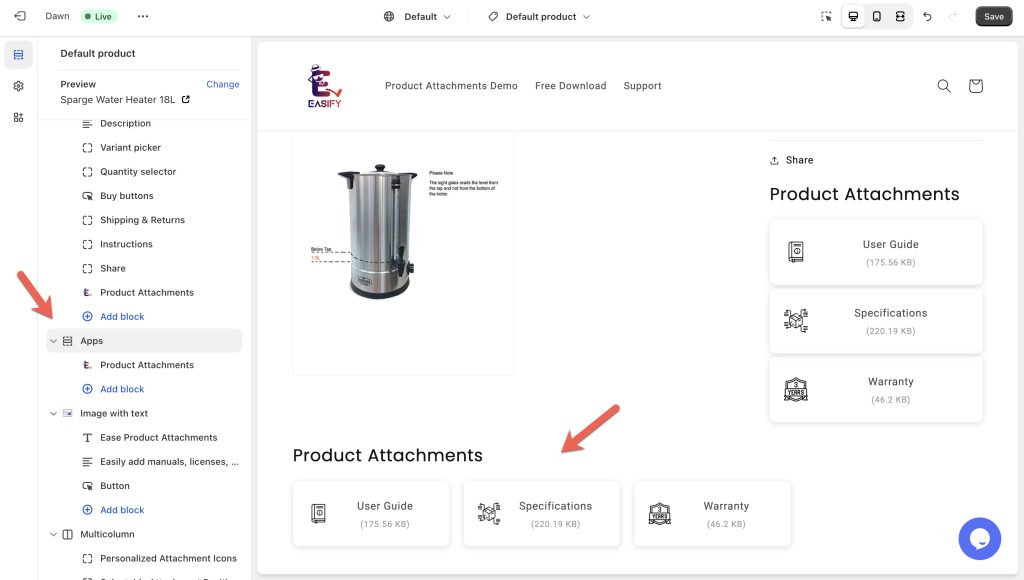 Adjust the position of the attachment block/section by dragging it to the desired location within the page template.
Save the template settings and preview the changes on your storefront.
Wrapping Up
Mastering the art of how to add PDF to Shopify page has never been easier, thanks to the remarkable Free Easify Product Attachments app. Elevating your store's user experience and delivering indispensable information to your clientele becomes effortless with this ingenious tool.
Imagine effortlessly sharing product guides, warranties, or captivating promotional materials. With the Easify Product Attachments app at your disposal, you can seamlessly integrate a diverse array of file formats into your store's pages. Its intuitive interface and robust feature set make it an indispensable asset for any Shopify store owner aiming to provide comprehensive resources and information to their valued customers.
Why wait? Take the first step toward an enriched content experience within your Shopify store. Begin your journey with the Easify Product Attachments app today and witness firsthand how it can transform the way you engage and inform your audience.