In the fast-paced world of online shopping, ensuring that customers can find the perfect fit is crucial. Size charts play an essential role in helping shoppers make informed decisions, leading to higher satisfaction rates and fewer returns. However, Shopify does not support adding size charts to the product page by default. Thankfully, there's a straightforward solution: utilizing a third-party app like Easify Product Options. In this guide, we'll delve into how to add a size chart in the Shopify product page with Easify app. Let's get started!
Understanding The Significance of Size Charts
A size chart is a visual reference guide that provides measurements and corresponding sizes for your products. It helps customers determine the best fit based on their body measurements. By including a size chart on your product pages, you can:
Reduce Returns: Accurate sizing information decreases the likelihood of customers ordering the wrong size, leading to fewer returns and exchanges.
Enhance Customer Confidence: Clear sizing details reassure customers that they're making the right purchase, boosting their confidence in your brand.
Improve User Experience: Offering a size chart as part of your product information demonstrates your commitment to customer satisfaction and usability.
How Size Charts Work
Size charts on your online store can be seamlessly integrated by incorporating an interactive "Size Chart" text above the size options, which, when clicked, activates a popup displaying a comprehensive size guide. This user-friendly feature empowers customers to make informed sizing decisions confidently, enhancing their shopping experience and minimizing uncertainty.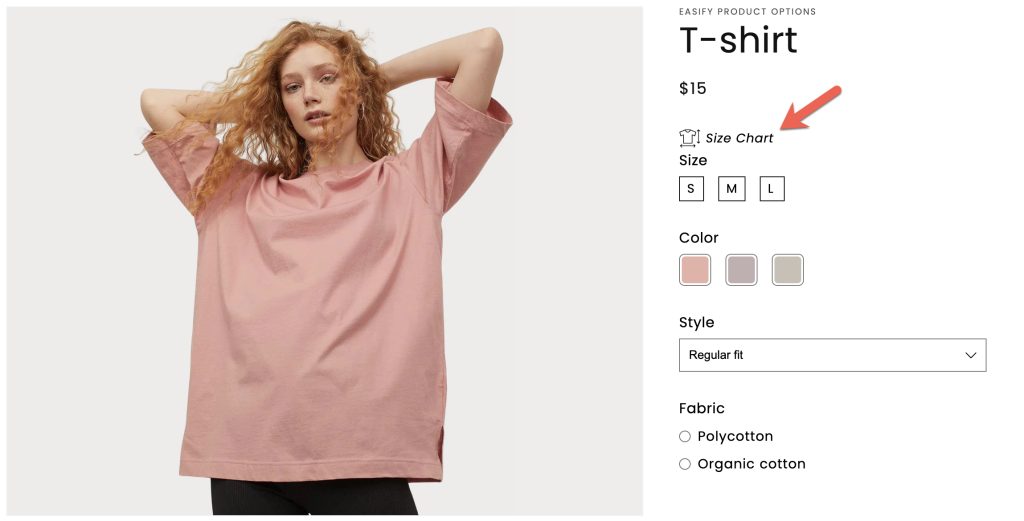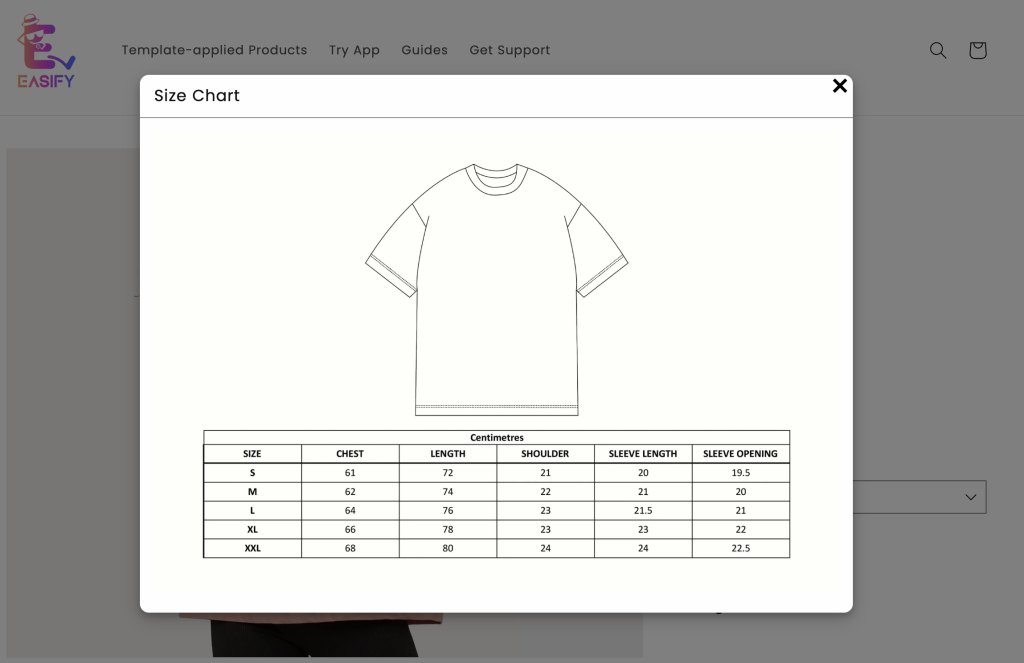 Examples of Stores Requiring Size Charts
Size charts are essential across a range of online stores:
Fashion boutiques rely on size charts for diverse garments
Footwear retailers ensure accurate shoe sizing
Sportswear brands provide precise fits for athletic gear
Children's clothing stores guide parents
Costume shops enhance the cosplay experience
Maternity and nursing stores cater to changing bodies
Swimwear and uniform suppliers prioritize perfect fits
Pet apparel shops use size charts for furry companions
…
How To Add Size Chart In Shopify Product Page With Easify Product Options App
Why Easify Product Options App
When it comes to adding a size chart to your Shopify store, the Easify Product Options app offers a simple and effective solution. This app enables you to create custom options for your products, and it includes a specific option type called "Modal" that is designed for creating size charts. Here's why Easify Product Options stands out among the competition:
Free Version with No Limits: Unlike many other specialized apps, Easify Product Options offers a Free version with no limitations on the number of products or orders. This makes it an affordable choice for businesses of all sizes.
Unlimited Size Charts: You can create as many size charts as needed for different products or collections, ensuring a tailored shopping experience for your customers.
Watermark-Free: Easify Product Options doesn't impose watermarks on your size charts, maintaining a professional and polished look for your store.
User-Friendly Interface: The app's intuitive interface allows you to create size charts quickly and easily. A Live Preview feature lets you see how your size chart will look before publishing it.
Icon and Content Customization: You can add a size chart icon and adjust its size to suit your store's design. The content of the size chart popup is fully customizable, allowing you to add text, images, links, and more.
Text Customization: The "Size Chart" text can be customized in terms of color, font size, and style (bold, italic, underline), ensuring it blends seamlessly with your store's branding.
Easy Updates for Future Changes: If you need to make changes, simply access the option set that includes the size chart, update the content, and the changes will automatically propagate to all selected product pages.
Advanced Options: For developers or those with specific requirements, Easify Product Options allows you to add custom code to the size chart popup content.
In contrast, when compared to other specialized Size Chart apps, you'll discover that many of them impose limitations on similar features within their free versions. Notably, the Easify Product Options app not only facilitates the creation of size charts at no expense, but it also offers a multitude of additional features such as creating personalized text boxes and custom option fields.
Steps to add a size guide on Shopify
Install and Activate the App: Begin by installing the Easify Product Options app from the Shopify App Store. Once installed, activate the app on your theme.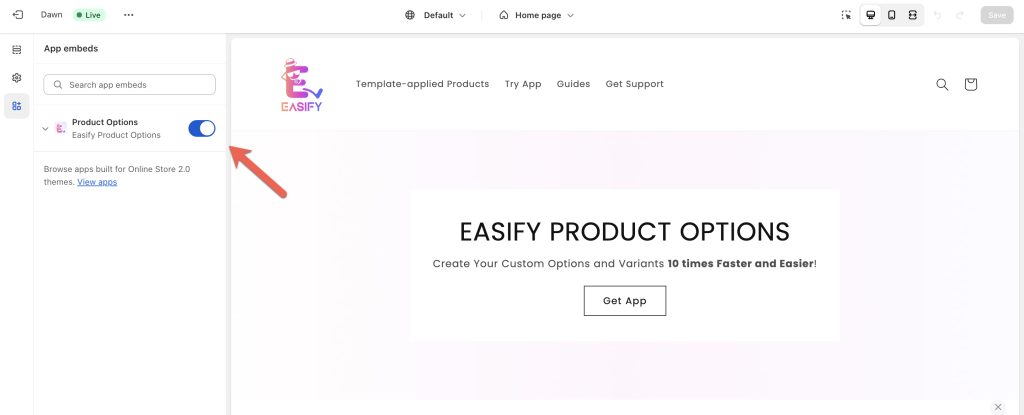 Create a New Option Set: Access the "Your Option Sets" page within the app and click "New Option Set".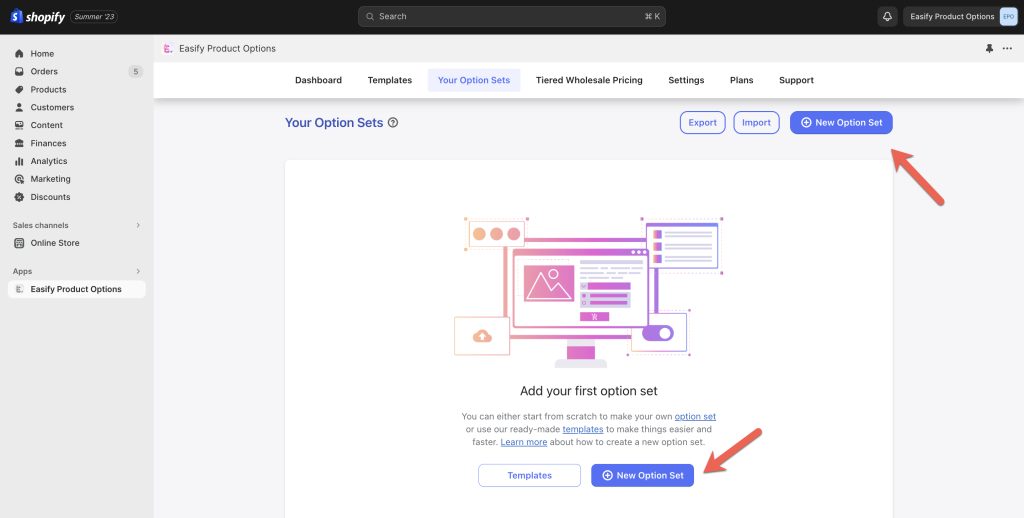 Add a Modal Option: Click "Add option" and search for the "Modal" option type. This option type is specifically designed for creating size charts.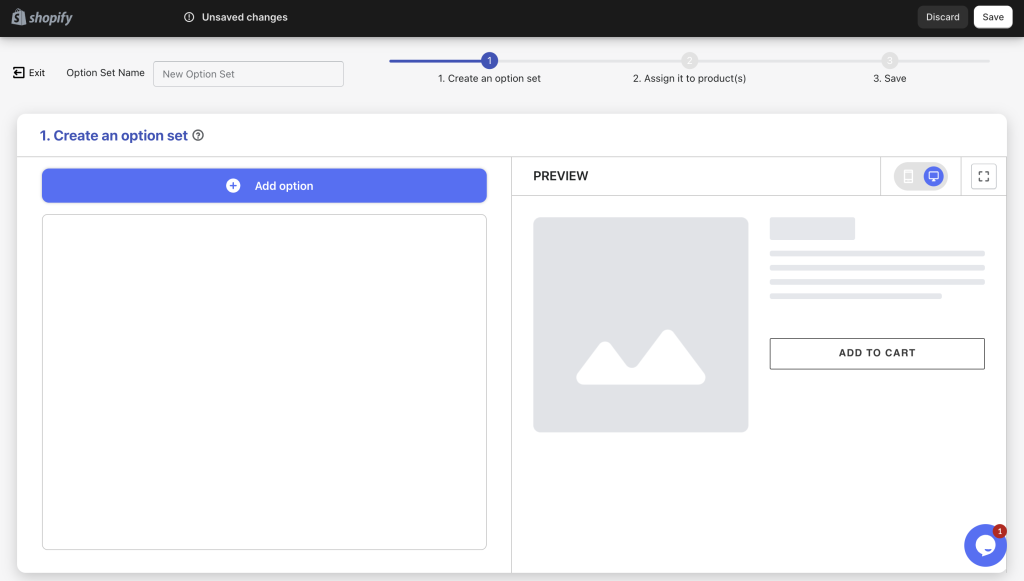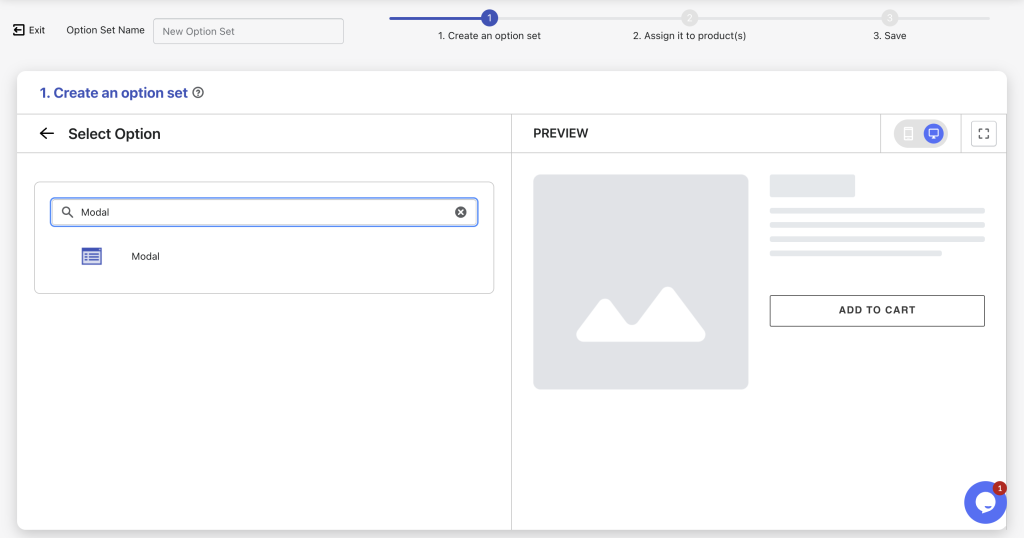 Edit Modal Details: Click on the selected Modal option and start editing its details: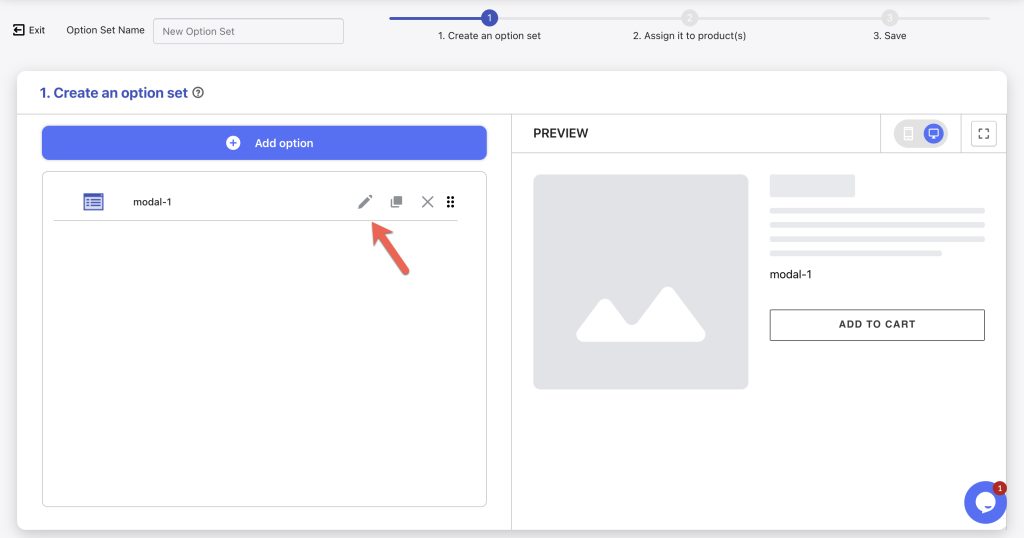 Option Name: Give your size chart option a name for easy identification.
Option Label: Define the label that will appear on the product page.
Popup Title: Provide a title for your size chart popup.
Popup Width: Adjust the width of the popup for optimal display.
Custom Option Label: Customize the appearance of the option label, including image size, font size, style, and color.
Editor: Choose between Visual editor and Code editor. Easify Product Options extends its capabilities to developers and tech-savvy individuals, offering the option to inject custom code into the size chart popup content for those seeking advanced personalization.
Content: Add text, images, links, or any other relevant information.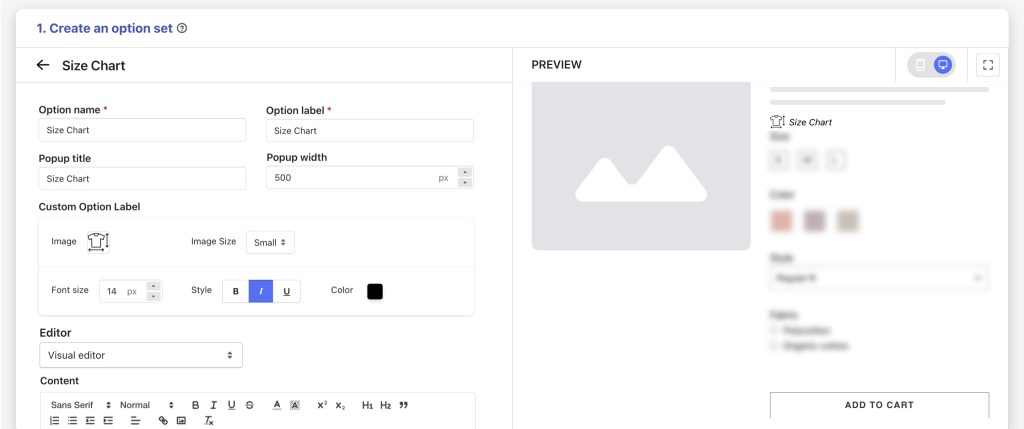 Select Products: Choose whether to apply the size chart to all products, specific products (manual selection), or specific products with automatic assignment conditions.

Save and Preview: Once you've configured the size chart details, save your changes and go to the storefront to preview the result.
That's all it takes!
Wrapping Up
In the world of e-commerce, providing customers with accurate information is key to building trust and driving sales. Size charts are an indispensable tool for ensuring customers find the right fit when shopping online.
While Shopify doesn't offer built-in support for adding size charts to product pages, the Easify Product Options app presents a user-friendly and versatile solution.
With its numerous customization options, user-friendly interface, and watermark-free implementation, the app empowers store owners to seamlessly integrate size charts into their online shopping experience. By following our guide on how to add size chart in Shopify product page, you can enhance customer satisfaction, reduce returns, and elevate your store's performance.